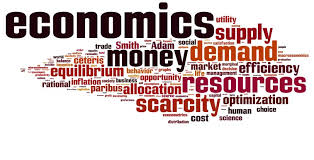 To the extent economic growth nowadays is driven mainly by innovation embodied in human capital and technology, much more than it is driven by traditional factors of production, such as labor, land, and physical capital, the concept of scarcity itself is perhaps becoming increasingly outmoded.
Whereas factors of production are expended in the production process, and are thus depleted/ depreciated in use, which is what makes them scarce, knowledge, per se, does not diminish w
hen given/ used. On the contrary, it diminishes when it is not.
Thus, a knowledge economy that is based on acquiring and transmitting knowledge and information AS IF it were a free good, may need to be based on a different paradigm than one which starts from the assumption of the scarcity of labor and physical resources and therefore the scarcity of their output of goods and services.
For example, a machine or a laborer could be used for one, and only one, endeavor during a workday. A computer, on the other hand, can multitask, and depreciates only technologically, that is, when it needs to be replaced by a faster computer, even though it may still be running very well.
So is what is to happen to economics without the concept of scarcity?!
Ibrahim Alloush
https://www.facebook.com/photo.php?fbid=107318424464757&set=a.107329664463633&type=3&theater